Things to Do This Fall at Crown Center Kansas City
Fall is one of the most exciting times to be in Kansas City. The summer heat has faded, Chiefs football has finally returned, and the smell of delicious food from various Oktoberfests fills the air. One of Kansas City's most iconic districts, Crown Center is the perfect place to enjoy the changing of the seasons. It gets its name from the actual Crown Center building located in the middle of this beautifully maintained corner of KC.
Whether it's memories of outdoor ice skating, discovering your creativity at Kaleidoscope, or leaving the Federal Reserve Money Museum with a sack of shredded money, every Kansas Citian has a special place in their heart for Crown Center. 
What you may not realize, however, is that Crown Center Kansas City is full of amazing options for dining, events, and activities for kids and adults alike! Keep reading to check out the LeasingKC guide to things to do this fall in Crown Center.
Our favorite places to eat & drink in Crown Center and Kansas City
With great choices for afternoon lunch with the kids, happy hour drinks, and romantic dinners for two, Crown Center Kansas City has no shortage of delicious food and drink options.
Here are our top recommendations:
If your significant other has been pestering you to get dressed up and go out for a night on the town, you'll want to make Pierpont's your stop for dinner. Located inside KC's historic Union Station, you can soak up the straight-out-of-1914 atmosphere while dining on a massive Kansas City Strip and Lobster Mac N' Cheese. 
If you aren't ready to splurge quite that much on dinner, never fear! There's a daily happy hour at the bar, and a 600+ bottle wine cellar to back it up.
Do you want to pick up the phone, order a delicious burger and fries, and have it delivered to your table by train? Kids and kids at heart alike love Fritz's Railroad Restaurant inside Crown Center Kansas City.
In addition to good food, diners at Fritz's get fun conductors hats and can check out the train history and memorabilia throughout the restaurant. And trust us, few things beat the look of sheer excitement on a kid's face as their food comes chug-chugging toward the table.
Just down 25th Street and around the corner from Crown Center is Teocali. The authentic, family-owned Mexican restaurant is a true gem in the Crown Center Kansas City district. 
There are two awesome patios at Teocali, including one on the rooftop that offers great views of Crown Center. You really can't go wrong with any menu item at Teocali, but we think the jalapeno cheese dip is a can't-miss! Diners over 21 can also enjoy samples of over 100 different tequilas.
Just a hop and a skip from Teocali is The Antler Room—though the location is where the similarities end between these two restaurants. The Antler Room specializes in "seasonal Mediterranean, East Asian, and Midwestern fare" (yum!) and is one of the coziest places to enjoy a local beer or craft cocktail. 
Things to do in Kansas City's Crown Center district
You can make an entire day – or even a weekend – out of a trip to Crown Center Kansas City. If we named everything there is to do, this article would quickly become a small novel. Instead, here's a few of the highlights: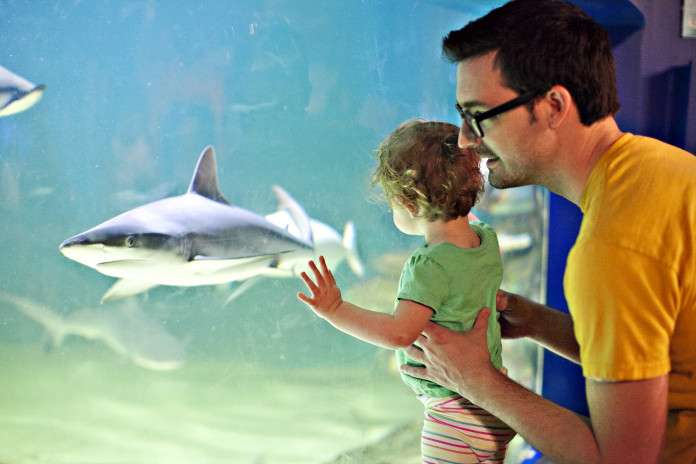 Kansas City's first aquarium, SEA LIFE, is open daily from 10am to 7pm. This interactive aquarium takes you beneath the waves and face to face with everything under the sea. You'll see all the fish you recognize from Finding Nemo, sea turtles, and even sharks! 
Make sure you get the full immersion experience with a stroll through the 360° ocean tunnel and get up close and personal with sea critters in the interactive touch pools. (Pro tip: tickets are cheaper online than at the door!)
If you really want to pack in the fun, opt for the combo tickets to SEA LIFE and the LEGOLAND Discovery Center (located next door to one another). This interactive, educational, and super fun Discovery Center boasts over 2 million LEGO bricks and is ready for kids to dive right in.
There's also MINILAND, a magical landscape of KC landmarks, made entirely from LEGOs, a 4D cinema, interactive rides, courses at the Master Builder Academy, earthquake tables, and more. 
Enjoy a stroll across Main Street in a glass-enclosed pedestrian bridge from The Westin Crown Center straight into Kansas City's iconic Union Station using The Link.
Once inside Union Station, adults can enjoy great restaurants, gorgeous architecture, and whichever traveling exhibitions happen to be in town. There's also no shortage of fun for the kids, including Science City, a model railroad experience, an Extreme Screen theatre, and a planetarium, too!
In case you weren't already aware, Hallmark was founded over 100 years ago right here in Kansas City. If you want to soak up the rich history of this iconic, feel-good company, take a trip to the Hallmark Visitors Center (plus, admission is totally free!).
Guests at the Hallmark Visitors Center can check out the incredible Christmas tree collection, view Hallmark's Keepsake Ornaments throughout the years, push a button and watch the bow machine create a perfect gift bow for you to take home, and on most afternoons, one of Hallmark's writers, sculptors, photographers, or illustrators will be on-site to bring their creativity to life and answer all your questions.
You may recognize the Egyptian Revival-style tower, but you may not realize that beneath the Liberty Memorial is the National World War I Museum and Memorial of the United States. This incredible, award-winning museum and learning experience showcases an artifact collection that began in 1920.
Here, history buffs can learn about the "war to end all wars" and the global events surrounding it that changed the world forever. Super fun historical fact: the Liberty Memorial's dedication in 1921 marked the first time the five Supreme Allied Commanders were gathered together in one place. 
Located inside Crown Center, The Coterie has been a nationally recognized, non-profit children's theatre organization in Kansas City since 1979. The theatre puts on thought-provoking shows for all ages, like the currently running "Rise Up" which tells the story of the Civil Rights Movement's Freedom Riders.
The Coterie also offers dramatic outreach programs and operates theatre classes across the metro area. Budding teen Shakespeares can also be invited the Young Playwrights' Roundtable to create a collection of plays with the guidance of peer feedback. 
---
Learn more.
If you're looking for the best apartments in Crown Center Kansas City, we've got you covered. LeasingKC is a rental listing site run by local experts to help you find Kansas City apartments, rental homes, condos, and lofts.
Stay up to date.
Whether you're new in town or a native Kansas Citian, there's something new to discover about KC every day. Join over 34,000 subscribers to LeasingKC Newsletters for more tidbits, city guides, and more.