Your Guide to the Crossroads KC
Out of Kansas City's recent downtown revival emerged an amazingly rich arts and entertainment district: Crossroads KC. This artistic haven features unique shops and boutiques, delicious bars and restaurants, and some of the top entertainment venues in the city.
Anyone who enjoys the hustle and bustle of city life and being where the action is can immediately see the appeal of calling the Crossroads home.
You're near all the best food, concerts, and Kansas City's most popular event: First Fridays.
Situated near the major interstates running through the city, living in the Crossroads means you can also get anywhere you need to be in the metro with ease.
Keep reading to learn from the Kansas City experts at LeasingKC all about where to eat, live, and be entertained in Crossroads KC!
Our Favorite Crossroads KC Bars & Restaurants
In order to truly enjoy all of the amazing food and drinks in this neighborhood, LeasingKC is bringing you our fave suggestions on the best places to eat and drink in the Crossroads.
This fantastic Thai restaurant offers food using fresh, locally grown ingredients. Curries and fried rice are the stars of this restaurant, and they have a spicy spectrum from mild to "Thai hot" that will everyone's pallet. 
When you're feelin' fancy, there's no better place in the Crossroads than The Rockhill Grille. This restaurant serves delicious American lunch, dinner, and brunch on the weekends (not to mention the glorious happy hour!) with lots of stylish rooms to explore and have a drink in.
Featuring 40 taps on a PYOB ("Pour Your Own Beer") wall, Taps On Main is a locally-owned sports bar and grill in Crossroads KC that puts you in control. Featuring many KC-made beers, we like Taps on Main to get out of our comfort zone and introduce our friends to new brews!
This cozy lounge celebrates Kansas City's rich jazz history with incredible live, no-cover jazz performances 7 days a week, all year long. The music-and community-focused atmosphere features no TVs, so you can sip on craft cocktails, enjoy great conversation, and soak up the rich ambiance without distraction.
A family-owned and operated institution in KC for over 36 years, Manny's features classic Mexican dishes cooked with the freshest ingredients. You can't go wrong with anything on the menu – but don't leave without trying the delicious spicy salsa, washed down with Manny's signature margarita, obviously 👌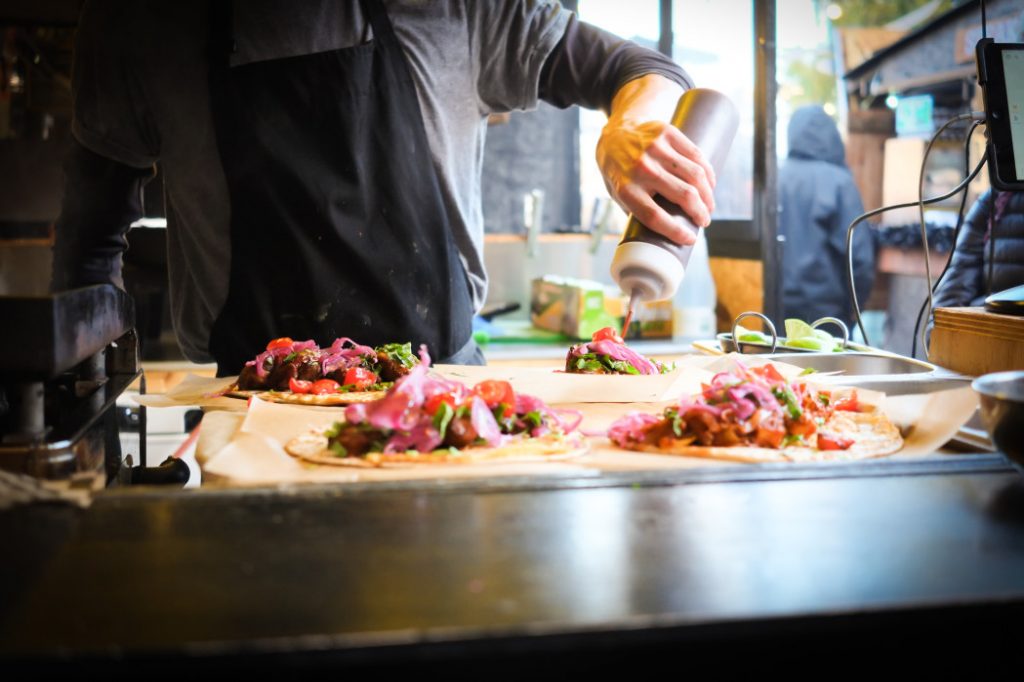 Town Topic
, 1900 Baltimore & 2021 Broadway
If you're craving a classic diner meal, head over to one of the two Town Topic locations in Crossroads KC! They've been serving up delicious breakfast foods, burgers, fries, and more since 1937. While the price for a burger has gone up a bit from the original 5 cents, we know you won't leave Town Topic disappointed.
UpDown KC
, 101 Southwest Blvd
Featuring over 50 arcade games, including classic '80s and '90s games, SEGA & Nintendo consoles, Skee-Ball alleys, pinball machines, mega-size Jenga, and more, UpDown is the most popular barcade in Kansas City. All games are just 25 cents, and the fully stocked bar and pizza is pretty good, too. (Don't skip out on the mac-n-cheese pizza…You won't regret it!)
Located inside the Loews Kansas City Hotel, this restaurant is the newest hot spot to hit the Crossroads in 2021. The menu is full of local flavors, with everyone from Tom's Town Bourbon barbeque sauce to Hemme Brothers Cheddar ice cream, this restaurant takes beloved local flavors and reinvents them into an exciting menu.
The Best Crossroads KC Events & Venues
No matter what music scene you prefer, these Crossroads KC venues are sure to please anyone.
On the first Friday of every month all year long, something magical happens in Crossroads KC. Thousands of Kansas Citians flock to the area to enjoy what might be KC's most popular event. Galleries feature special artists, live entertainment is everywhere, and the bars and restaurants have amazing specials! We'll see you next First Friday 😉
A pizza joint-slash-outdoor concert venue, Grinders is a place where you can see everyone from your neighbor's Nirvana cover band to major hip-hop and rock acts and all that's in between. Head here for a slice of pizza, an ice-cold beer, and a great time.
Home to the Kansas City Ballet, Lyric Opera, Kansas City Symphony, and other amazing acts, the Kauffman Center for the Performing Arts has become an iconic part of Downtown Kansas CIty culture (not to mention the skyline) since its opening in September 2011. Go check out the gorgeous building and be sure to catch one of the incredible shows happening!
If you were raised in KC, you grew up going to Union Station. This 100 year old Kansas City institution plays host to culture, education, and entertainment. Check out a 3D movie on the Extreme Screen, bring the kids to Science City, or enjoy a coffee or a meal in one of the restaurants and cafes inside.
Want to get dressed up and brag to your friends about how cultured you are? This 30 member professional ballet company was founded in 1957 and "offers an eclectic repertory ranging from the traditional classics to exciting contemporary ballets." They also offer amazing community programs, like the Kansas City Ballet School which provides dance classes to 2,000+ students of all ages a year!
Check out these art galleries in Crossroads KC
One tour of the Crossroads and it's easy to see why KC is considered the hottest art scene outside New York City. The galleries in this area feature local, regional, national, and even internationally renowned artists and showcase everything from paintings, sculpture, glass, ceramics, and more! Art collectors can display or purchase art from most of these galleries.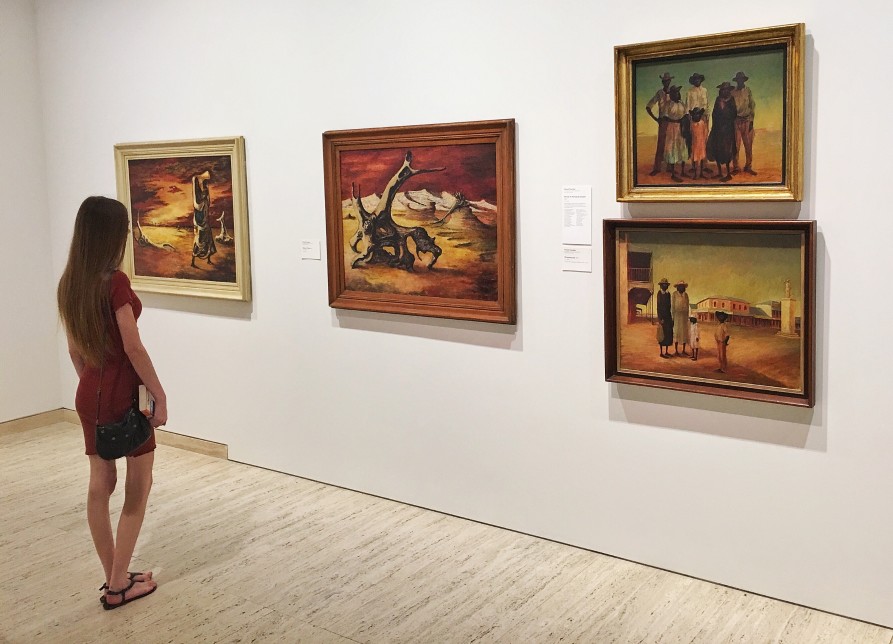 Here are LeasingKC's top recommendations for which venues to visit in the Crossroads:
Since its inception in 2000, Blue Gallery has added over 40 emerging-to-established local and nationally known artists to its roster. This gallery is located at the center of Crossroads KC – be sure to catch an exhibit or go in during First Fridays! If you find a piece you simply can't live without, be sure to ask about making a purchase, or browsing available prints!
If you're looking for a gallery experience that offers a wide range of mediums, materials, and ideas, make sure you check out Sherry Leedy Contemporary Art. Representing diverse, critically-acclaimed artists, exhibitions often feature painting, photography, sculpture, ceramics, and glass.
This Crossroads KC art gallery describes itself as "elegantly urban and ever-changing." Consistently named among the top galleries in the country, Hilliard is not to be missed when planning an art tour of the Crossroads. Pieces are also for sale to the avid collector and the gallery offers custom framing services. This gallery participates in First Fridays, so be sure to stop by!
Featuring exhibitions from regionally and internationally established artists, this gallery is constantly playing host to amazing events like artist receptions, cocktail parties, First Fridays, and (of course!) exhibitions.
The Takeaway?
Overall, if you're looking for an eclectic neighborhood that reflects your artistic tastes and offers something exciting to do every night, the Crossroads may be the perfect fit for you!
---
Learn more.
If you're looking for the coolest apartments in Crossroads Kansas City, we've got you covered. LeasingKC is a rental listing site run by local experts to help you find Kansas City apartments, rental homes, condos, and lofts.
---
Stay up to date.
Whether you're new in town or a native Kansas Citian, there's something new to discover about KC every day. Join over 34,000 subscribers of LeasingKC Newsletters for more tidbits, city guides, and more.